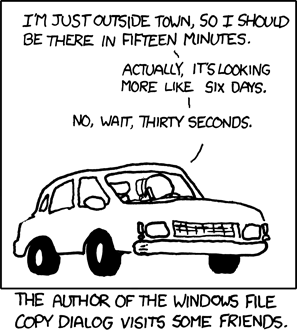 Inspired by this xckd cartoon I wondered exactly what is the best mechanism to provide an estimate to the user of a file copy / movement?
The alt tag on xkcd reads as follows:
They could say "the connection is probably lost," but it's more fun to do naive time-averaging to give you hope that if you wait around for 1,163 hours, it will finally finish.
Ignoring the funny, is that really how it's done in Windows? How about other OS? Is there a better way?